Well as you all know I've been working (not much since contracting covid) only the bonnet to go back on the complete all the work on the engine/gearbox, need the bleed the clutch, and after doing the brakes, will need them bleeding as well
But time to get it finished. But rear brakes are siezed solid, so new caliper's required and discs and pads.
Stripped out the passenger rear and found this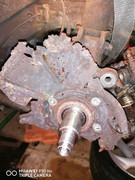 So removed that and test fitted this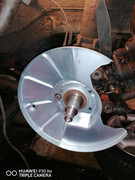 So off to the power coating place to get them powered coated.
Have new caliper's and pads but no discs,

on order should be here tomorrow