Hi. These are the fuses I've ordered. After alot of cross reference I hope these are the correct ones.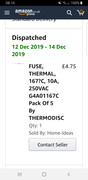 ---
Hi
Did this fix the problem? I'm getting a code 51 now...
Thanks
---
Yep all sorted. A bit nerve racking but managed to do it with the new fuse. No warnings lights now.
---
Area Rep
Posts: 1488
Joined: Thu Sep 06, 2018 10:52 pm
Has thanked: 6 times
Been thanked: 13 times
Nice one, now you have done one, we should send you a few u/s for repairs
---
That would be mega stressfull lol.
---
Who is online
Users browsing this forum: Bing [Bot] and 7 guests