Full Member
Posts: 69
Joined: Thu Sep 06, 2018 9:34 pm
Has thanked: 4 times
Any advice please , my v6 has started cutting out when at idle . I've adjusted the Rev speed screw so it's not doing it but obviously the revs are now higher when stationery . Is there an underlying problem? The engine runs spot on
---
---
---
---
Full Member
Posts: 69
Joined: Thu Sep 06, 2018 9:34 pm
Has thanked: 4 times
Where do I get a code reader for a probe lol
I've got a canbus reader but the fitting is different
Last edited by
notoriousgoz
on Fri Oct 04, 2019 11:25 am, edited 1 time in total.
---
And just check all the 'mechanical' things work really nicely.
Make sure that the ball-race that runs in the slot of the throttle quadrant IS turning and not sliding in the slot.
---
Tech Rep
Posts: 894
Joined: Fri Sep 07, 2018 8:28 am
Has thanked: 1 time
Been thanked: 11 times
As said check over for air leaks etc,to do base idle just link Ground and Ten in the
Diag box (when warm) and see wot it does then use the adjuster on the Throttle body screw to adjust
this will also tell if the TPS is out of line
---
notoriousgoz

wrote:

↑

Fri Oct 04, 2019 9:38 am

Where do I get a code reader for a probe lol

I've got a canbus reader but the fitting is different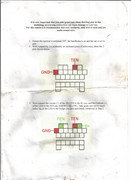 Use a piece of insulated wire and an LED light.
---
You can make a code reader out of a peice of wire and a bulb . I hard wired one into mine years ago and fitted a rocker switch under the steering wheel .
---
Full Member
Posts: 69
Joined: Thu Sep 06, 2018 9:34 pm
Has thanked: 4 times
Thanks for all the advice lads , I've topped up the coolant, no change, gonna check for leaks next , damn these dark nights !
---
Who is online
Users browsing this forum: No registered users and 15 guests