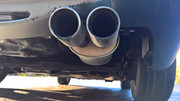 Hello All, just wondered if someone could eyeball my back box - it looks like a normal mild steel thing to me but I've always assumed it has some sort of 'sports' exhaust from the row it makes from the rear end. No leaks or anything.
I was on the Mway a while back, a Lambo came up behind me ( I got out of the way! ) It struck me how similar the sound was when ones foot is down a little. A pretty high pitched 'buzz' is how is describe it.
Last SS exhaust I had was on Scimitar - nice n shiny, unlike what's on my GT
Thanks for any comment!