Search found 31 matches
by Andy W

Sun Jul 28, 2019 9:57 am
Forum: The Garage - Technical Forum
Replies: 13
Views: 9658
Andy kay93

wrote:

↑

Thu Jul 25, 2019 7:49 pm

That's look great!, what sort of price do you think I'd

Be looking at for both sides?
I think it was around £60 from Kev for inners and outers when I did mine a couple of years ago.
Best ask Kev (CPT black) as it depends if he is still able to make them.
by Andy W

Tue Jul 23, 2019 11:42 pm
Forum: The Garage - Technical Forum
Replies: 13
Views: 9658
Ask Kev (CPT) when he's able to make up a batch next. They aren't a full sill but the rear sections but do fit quite nicely.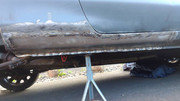 by Andy W

Fri Jun 21, 2019 10:50 am
Forum: The Garage - Technical Forum
Topic: Headlamps not working
Replies: 4
Views: 3683
Bulbs first obviously, also check the headlamp connectors with a circuit tester. The plugs can melt if someone has put higher rated bulbs in there.

After that rule out any fuses or relays.
by Andy W

Sat Jun 15, 2019 12:12 am
Forum: The Garage - Technical Forum
Topic: In need of parts urgently...
Replies: 35
Views: 22569
That sucks. What bad Luck.

Don't want to be the bearer of bad news but the panel in front of the radiator is badly bent and a good way back, I''m looking at the angle of the headlights too - check the chassis legs aren't twisted.